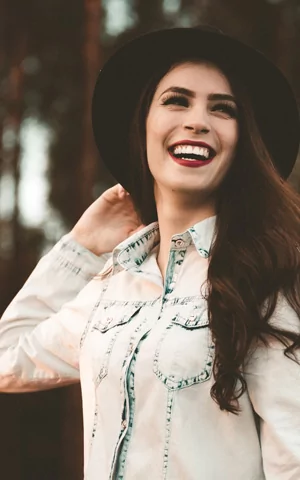 One of the most exciting parts of dentistry is making your teeth look stunning! Imagine being able to show off teeth that are whiter, straighter, and better shaped.
It's a lot of fun to smile big and then see the surprise and hear the gasps from people who know how your teeth used to look. We want to help you with that! We offer cosmetic dentistry options that everyone in your family can enjoy.
We can help with:
Stained or darkened teeth.
Misaligned teeth.
Teeth damaged by cavities.
Misshapen teeth.
Facial wrinkles.
Missing teeth.
Much more.
Call Ottley Smiles to get services for any aesthetic aspects of your smile that you want to improve, along with cleanings that keep those teeth sparkling.
Below are some of our favorite cosmetic dentistry options.
Bleaching
Get quick whitening results with our in-office treatments. You can also take a whitening kit home to enjoy on your own couch and at your own speed. Make your teeth up to nine shades whiter!
Bonding
Direct bonding composite, or tooth-colored filling, is an aesthetic, long-lasting restoration that can be used in any part of the mouth. These composites can be used to close spaces between teeth, cover discoloration, resolve defects, replace unsightly silver fillings, and restore decayed teeth.
Veneers & Lumineers
Veneers are thin shells of custom-made porcelain that cover the front of your teeth. With veneers, we can shape and color your teeth any way you want! Make them look straighter, whiter, newer, prettier. For a faster procedure, we can place Lumineers!
Dental Crowns
Crowns are not just for protection. You can cover and restore a discolored, misshapen, or cracked tooth in order to complete your unique smile.
Dental Implants
Nothing draws unwelcome attention like a missing tooth. A dental implant and tooth restoration creates a new tooth— from root to crown— that looks better than new!
Dentures
When you're missing a lot of teeth, it's hard to smile and enjoy both socializing and eating. Customized full or partial dentures will restore your smile and give you back your self-esteem.
Botox
Ottley Smiles is now offering BOTOX® Cosmetic treatments. Why not ease those worry and age lines that clash with your beautiful smile in one visit to the dentist?
BOTOX® Cosmetic is the first and only FDA-approved prescription product that temporarily improves the appearance of both moderate to severe frown lines between the brows and moderate to severe crow's feet. Wrinkles result from a combination of many factors. It's not just about cellular changes, collagen depletion, or damage caused by free radicals. When you frown or concentrate, the muscles between your brows contract, causing your skin to furrow and fold. When you squint, the muscles around your eyes contract and cause crow's feet.
BOTOX® Cosmetic works beneath the skin's surface to target the underlying muscle activity that causes frown lines and crow's feet. It is injected into these muscles and blocks the release of a substance called acetylcholine, temporarily reducing muscle activity. The result is a reduction in the appearance of those lines.
BOTOX® Cosmetic Facts
BOTOX® Cosmetic is the 1st FDA approved botulinum toxin to temporarily improve moderate to severe frown lines between the brows in people aged 18 to 65.
For over ten years, BOTOX® Cosmetic has produced real, noticeable results that are proven to last up to 4 months.
BOTOX® Cosmetic is the #1 prescribed product of its kind in the US.
More than 11 million BOTOX® Cosmetic procedures have been performed since 2002.
BOTOX® Cosmetic is approved in more than 72 countries for aesthetic use.
BOTOX® Cosmetic has a record of experience that healthcare professionals know and trust.
Since May 2011, the satisfaction rate has been over 95% among people who have been treated with BOTOX® Cosmetic.
Call Ottley Smiles to Get a New, Better Smile!
How fun would it be to have a more gorgeous smile? And it's exciting to give you one. We'll guide you through the process and keep you safe and comfortable the whole time. We're experienced at this! Call Ottley Smiles now.