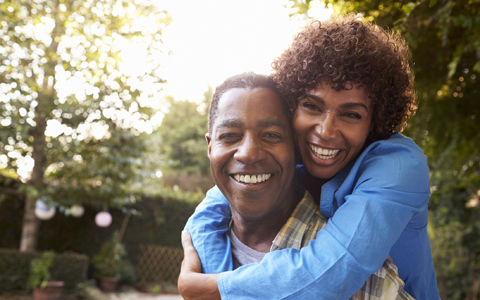 Do you wish that your teeth were whiter? Straighter? That a gap was gone? That no one saw those stains or cracks?
You can have the dazzling, beautiful smile you want in just one or two appointments! We're excited to reshape individual teeth and even rows of teeth with veneers and Lumineers®. Call today to find out how.
What Are Dental Veneers?
Porcelain veneers are ultra-thin shells of ceramic material, which are bonded to the front of teeth. Veneers are placed to mask undesirable defects, such as teeth stained by tetracycline, an injury, or as a result of a root-canal procedure. They are ideal for masking discolored fillings in front teeth. Patients with gaps between their front teeth or teeth that are chipped or worn may consider porcelain veneers.
This type of procedure will take two appointments. During he first appointment, we prepare the teeth to receive the veneers and take an impression that is then sent to a dental laboratory. Temporary veneers are then placed on the teeth.
At the second appointment, we bond the new permanent veneers to the teeth. This work is typically completed by Dr. Jared Ottley, DDS, F.A.G.D. or one of our other talented dentists.
What Are Lumineers®?
Lumineers® are porcelain veneers that offer the painless way to a permanently whiter and perfectly aligned smile. Your Lumineers dentist can apply these contact lens-thin "smile shapers" to teeth without any grinding or shaving.
These ultra-thin veneers transform teeth into a naturally beautiful smile that looks perfect for every individual. Lumineers can even be placed over existing crown or bridgework without having to replace them.
Lumineers are a quick and easy way to get the beautiful smile you have always wanted!
Call for Fast Cosmetic Dentistry with Veneers or Lumineers®
How do Hollywood stars get such amazing teeth? It can be simpler than you imagine. Veneers and Lumineers® can quickly reshape each tooth, cover flaws and damage, and make whole rows of teeth look stunning!
Call Ottley Smiles
now to set up an appointment. The smile of your dreams could be yours in one or two appointments!