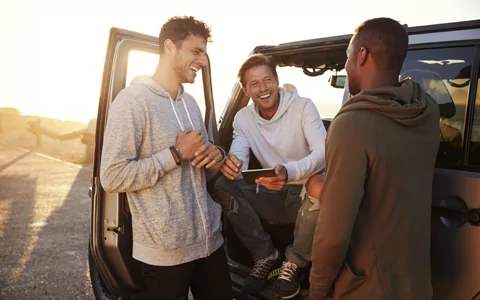 Do you struggle with crooked teeth or a flawed bite? Do you want straighter teeth for your children? We have a variety of exciting orthodontic options for everyone in your family.
When you come to Ottley Smiles for an appointment, we'll give you a quick and thorough exam. Then we'll show you the options that will give you a straight, beautiful smile. The process will be simple for you to understand, and we'll keep you comfortable and safe throughout your treatment.
Read more about your orthodontic possibilities below. Call us today to get started!
Early Orthodontic Intervention
Functional Jaw Orthopedics (FJO) is a more progressive form of orthodontics that combines traditional braces with removable appliances. The idea is to diagnose crowding and malocclusions at a younger age. This allows us to intervene earlier to work with the child's natural growth and development to make room for all the teeth, resulting in a beautiful broad smile.
Traditional orthodontics treats later and with unnecessary extractions of adult teeth, resulting in a narrow smile that has the "black hole" look at the corners of the smile.
If caught early, crowding and other problems can be treated with appliances, and the correct amount of growth can be achieved to make room for all the permanent teeth to fit, resulting in a nicer, wider smile.
Dr. Jared and Dr. Karina both have extensive training in growth and development of children and functional jaw orthopedics. These trusted professionals are both Fellows of the Academy of General Dentistry, so you know your child is in good hands at Ottley Smiles!
Three Ways to Straighten Smiles
We offer options here at Ottley Smiles because every patient has a unique set of needs. We can help you decide which option is best for you!
Traditional Braces
Traditional braces can be perfect for many young, growing patients. Braces guide their teeth and bite into the ideal shape for a beautiful and healthy smile. This time-tested treatment can shape smiles that can boost confidence and help maintain health for years to come!
ClearCorrect
We are proud to offer ClearCorrect. The patented ClearCorrect system uses a series of clear, removable aligners to gradually reposition teeth. This system allows us to straighten your teeth without using the brackets and wires of traditional braces. For more information, please visit their website.
Invisalign® Clear Braces
Many of our adult and teen patients love the Invisalign® system. It can quickly accomplish the same goals traditional braces address, but it doesn't use metal or tightening to straighten teeth. Instead, it uses a gentle pressure.
In the classroom or the boardroom, people will hardly notice that you're getting your teeth straightened with these invisible braces!
Call Ottley Smiles for a Quick Consultation
Can you imagine how it would feel to have the straight smile you've always dreamed of? Or to give a beautiful smile to your children? Call today to get an exam, and find out how quickly these dreams can become real!