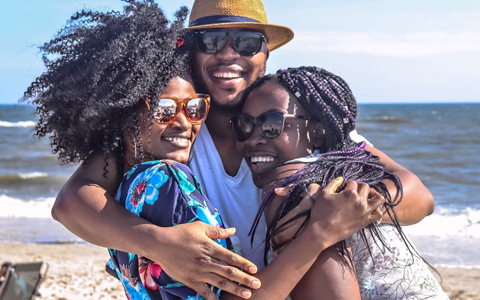 If you have a damaged or missing tooth, we have a few options. Crowns and bridges are two of the more conservative options. They can protect and replace teeth with a minimum of work. For even faster restorations, we can create and install a crown in one appointment!
You don't have to endure a broken, painful, or missing tooth any longer. Call Ottley Smiles Dental Center for a crown or bridge procedure now.
What Is a Dental Crown?
The top and sides of a tooth are called the "crown." The crown is what lets you chew naturally, and it's what people see when you smile.
When we talk about giving you a new crown, we're talking about a customized tooth cap that covers the top and sides of your tooth. This cap gives your tooth:
Strength and protection against damage and infection.
A new chewing surface that works like your original tooth.
A beautiful new look, free from cracks or discoloration.
We can make crowns out of porcelain, which looks just like a real tooth. It reflects light the same way, and we'll color-match it to your other teeth for a flawless appearance.
CEREC: One Visit Crowns
CEREC offers the best single tooth restoration available today!
CEREC® is the world's only system for the fabrication of all ceramic dental restorations in one office visit. With CEREC®, we can complete your permanent, all ceramic crown, onlay, or veneer in just one quick visit!
This means fewer shots, less drilling, and less time out of your hectic schedule for dental care. If you want dramatic results—a strong, healthy new tooth—in one quick visit, ask us about CEREC®.
What Is a Dental Bridge?
A dental bridge is a time-tested approach to replacing a tooth or teeth. If you're missing a tooth, we can put a customized dental crown into that space. It will let you chew and smile just like a new, natural tooth!
How? The bridge is an appliance that attaches to tooth crowns on both sides of the gap. From there, the bridge spans across the gap, holding a new crown in that space.
Besides letting you chew and smile again, the bridge can also:
Protect the tissue in the gap.
Keep your healthy teeth from moving.
Help you speak naturally.
Prevent uneven tooth wear.
A new bridge can be a great way to restore and protect your smile!
Restore Damaged or Missing Teeth
If you're suffering from a broken tooth, you can have it completely restored in just one visit! If you're missing a tooth, we can can replace it with a bridge.
Call Ottley Smiles
. We'll get you the first appointment possible so that you can get these dramatic results fast!